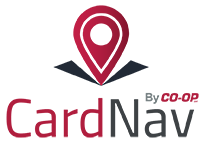 **New security and control for cardholders.
Introducing unprecedented, real-time control over your UCFCU Debit and UCFCU VISA Credit Cards through your smartphone or tablet. CardNav adds another level of security to your cards by letting you decide how and when they can be used, and alerting you when any types of transactions you specify take place. You can even use CardNav to set personal spending limits that help you stay within your budget goals.
Turn cards on or off in seconds.
Use GPS to restrict transactions to businesses within a designated area.
Limit card use to specific merchants or purchases.
As a tool to detect fraudulent activity, cardholders receive real-time, in-app notifications whenever there is activity on their enrolled cards.
Receive alerts when you're getting close to any personal spending limits you've set.
Download the CardNav by CO-OP app for FREE from the Apple App Store or Google Play, and gain a new level of security and control over your money today.
***EMV Chip Card - Enjoy the flexibility & security of your new chip-enhanced card.
Activate your new chip-enhanced card to enjoy these benefits.
Use your card at millions of locations worldwide — pay at merchants, both domestic and international, wherever chip cards are accepted.
Pay with confidence — enhanced security and protection against card counterfeiting and fraud.
Continue to enjoy your favorite benefits — includes both chip technology and conventional magnetic stripe, enabling your card to work at all merchants that accept cards.
SEE DISCLOSURES: